UK-Korea Clean Energy Alliance Accelerates Net Zero Shift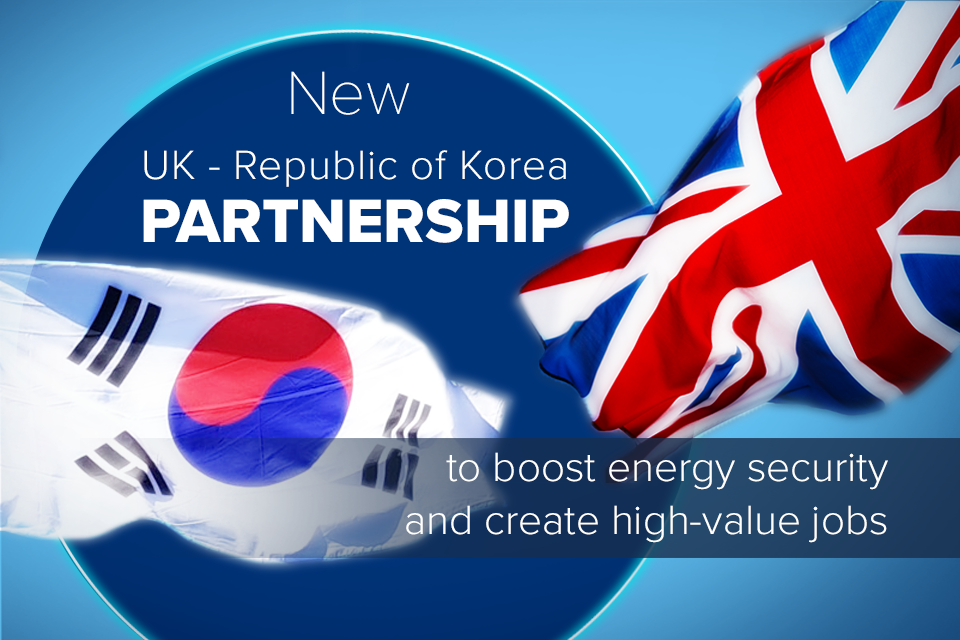 Partnership will be signed in London by Energy Security Secretary Claire Coutinho and RoK's Minister for Trade, Industry and Energy, Bang Moon Kyu
agreement will bolster cooperation on low carbon technologies, civil nuclear, and tackling climate change
builds on existing energy and climate agreements between the 2 nations, as part of efforts to accelerate the global transition to net zero
A new Clean Energy Partnership between the UK and the Republic of Korea (RoK) will be agreed tomorrow (Wednesday 22 November) to boost energy security and accelerate the clean energy transition.
The partnership will be signed in London by Energy Security Secretary Claire Coutinho and RoK's Minister for Trade, Industry and Energy, Bang Moon Kyu. It will see the UK and RoK strengthen cooperation on shared ambitions across the clean energy transition, low carbon technologies, civil nuclear, and domestic climate policies. The new partnership will promote UK-Korea business collaboration, addressing barriers to trade and encouraging mutual development of each other's energy sectors.
The 2 countries will also double down on commitments made under the Paris Agreement to limit global warming to 1.5 degrees, to work together to phase out unabated coal power from energy systems to achieve net zero by 2050.
The partnership comes alongside South Korean businesses injecting more than £10 billion of new investment into the UK, backing renewable energy and infrastructure projects across the country, and supporting more than a thousand highly skilled jobs across the renewables supply chain.
Energy Security Secretary Claire Coutinho said:
The UK and the Republic of Korea already have a strong relationship on energy security and tackling climate change.

The new partnership we will sign will see us collaborate even more closely, driving forward shared plans to accelerate clean energy sources, like renewables and nuclear power.

This will help us make the green transition, while supporting the injection of more than £10 billion into the UK economy from South Korean businesses and the thousand skilled jobs that come with that.
The partnership will see both countries commit to:
strengthening cooperation on civil nuclear, including on large scale, small scale and advanced reactors, decommissioning and waste management, and supply chains – important as both nations develop clean energy sources, and reduce the global nuclear industry's dependence on Russia
sharing information and lessons learned on offshore wind to support UK and RoK's ambitions, collaborating on barriers to deployment and exploring commercial opportunities through the annual Offshore Wind Policy Dialogue
exploring shared priorities for UK-RoK hydrogen collaboration, building on engagement through existing forums
reinforcing existing cooperation on grids and infrastructure between Korea Electric Power Corporation (KEPCO), Ofgem and The National Grid to enhance existing technical, policy, R&D and commercial exchange
enhancing R&D cooperation via the UK-RoK Science, Technology and Innovation Partnership, and to deepen cooperation via other channels including Mission Innovation
The clean energy partnership will elevate existing areas of bilateral cooperation on energy between the 2 countries, in particular building on the UK-RoK Civil Nuclear Dialogue and the previously agreed UK-RoK Offshore Wind Memorandum of Understanding to accelerate offshore wind deployment.
These agreements will advance the Republic of Korea's transition to clean energy while creating high-value jobs in the UK's green supply chain.
Already, RoK has a target of 14.3 GW of offshore wind by 2030 – with UK companies winning a significant number of RoK offshore wind engineering contracts. Additionally, there are a number of investment commitments from UK and RoK companies, helping to accelerate offshore wind development:
RoK's SeAH Wind Ltd is making a £650 million investment to build a new factory and manufacture offshore wind monopiles in Teesside, creating up to 750 jobs by 2030
UK offshore wind developer Corio Generation, with a portfolio exceeding 30GW and a total value of approximately £146 billion across 10 countries, is expanding its offshore wind presence, particularly in the UK and Republic of Korea
Louise Kingham, Head of Country at BP said:
BP is delighted to reconfirm our support to developing offshore wind in South Korea, working in partnership with stakeholders to support the country's energy transition.
This further investment and closer collaboration follows over 3 decades of the UK and RoK working together on advancing nuclear power generation, underpinned by the Nuclear Cooperation Agreement made in 1991.