UConn vs Texas Odds, Pick | College Basketball Betting Guide (Monday, Nov. 20)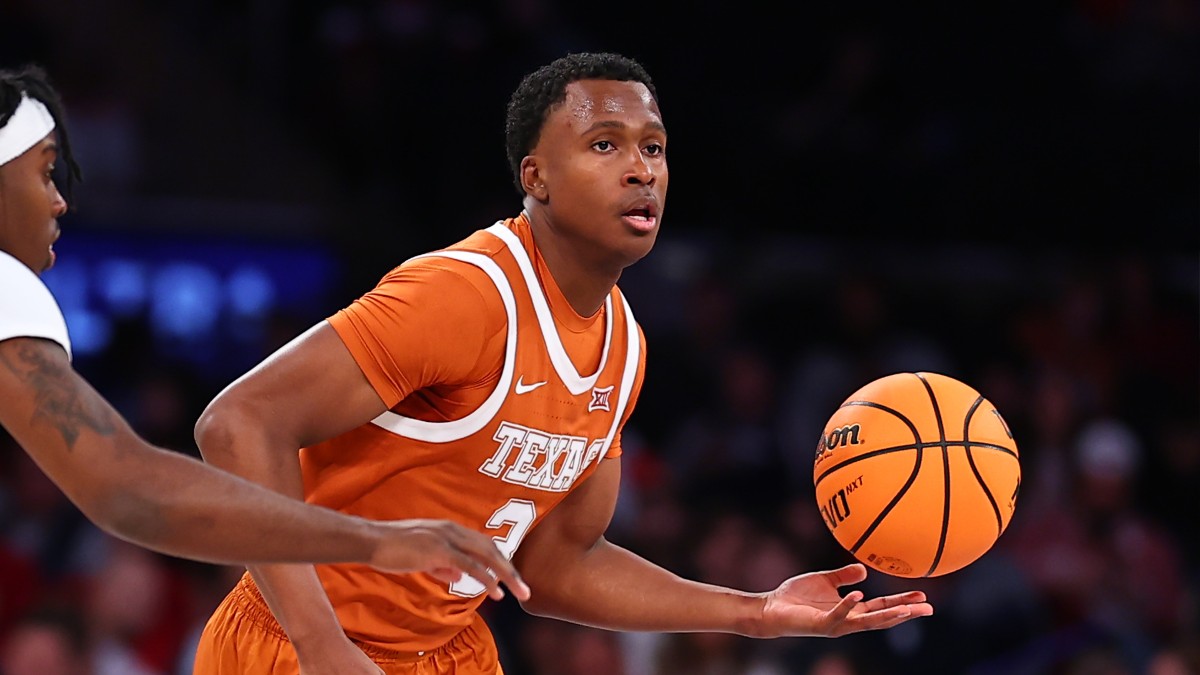 UConn vs Texas Odds
Monday, Nov. 20
7 p.m. ET
ESPNU
UConn Odds
Spread
Total
Moneyline

-6.5

-110

144.5

-110o / -110u

-250
Texas Odds
Spread
Total
Moneyline

+6.5

-110

144.5

-110o / -110u

+200
Welcome to the Empire Classic title game. We have a doozy of a matchup between the Texas Longhorns and the reigning national champion UConn Huskies.
Both of these teams may not have every returning piece from last season, but they still have a ton of experience. Notably, Texas added Oral Roberts star point guard Max Abmas, who's capable of dropping 40 on any given night.
For the Huskies, they've picked up right where they left off, despite the key departures of Adama Sanogo, Andre Jackson Jr. and Jordan Hawkins. Big man Donovan Clingan has been an absolute force inside and is quickly ascending as one of the most dominant defensive players in the sport.
Charlie DiSturco and I broke down these teams and uncovered the correct betting angle for UConn vs. Texas.
---
Maximize your UConn vs. Texas action with our BetMGM bonus code.
---
The Huskies have the current longest winning streak in the nation, with 10 consecutive victories dating back to last year. Many thought that this would be a shaky non-conference for this group considering all of the talented departures, but that certainly hasn't been the case.
I believe with the amount of talent and depth on this roster, the Huskies can compete against any team in the nation.
For this particular matchup, the biggest angle is the depth of this Huskies team. This is a much deeper team than the Longhorns, so even with their starters off of the floor, I wouldn't expect a huge drop-off in scoring.
They've also done a terrific job crashing the boards, as they're third in the nation in offensive rebounding. The Horns fail to crash the glass effectively, so this is going to be a massive difference-maker in the final score.
I will say that UConn's offense is struggling a bit beyond the arc, shooting 33% on the season. I think there's too much talent on this team for that percentage to remain that low, so I would expect some positive shooting regression moving forward.
I'd be pretty surprised to see the Huskies lose this game, but I'm a bit weary of laying this number against a talented Horns team. I have a feeling the backdoor will be open until the very end.
It's been a smooth start to the season for Connecticut. After three cupcake games to start, the Huskies traveled to Madison Square Garden and dismantled Indiana by 20.
It's a small sample size, but Dan Hurley's squad looks poised to once again make a championship run.
Tristen Newton has taken over the primary ball-handling duties and is averaging 17.3 points, 8.3 rebounds, 5.0 assists and 2.3 steals per game — all team highs.
While Sanogo has departed, Clingan has become an unstoppable force inside. He's second in the country in offensive rebounding and top-25 in both block rate and fouls drawn per 40 minutes.
Hurley's squad ranks inside the top six in both Offensive and Defensive Efficiency metrics, per KenPom, and are third in second-chance opportunities. Similar to last year, UConn lets it fly from the perimeter, and while it's average from deep, its length and ability to crash the boards has been near-impossible to slow down.
Five players on this team average 13+ points per game, with Rutgers transfer Cam Spencer (15.8 PPG) being a sparklight from the perimeter (46.4%).
The Huskies did turn the ball over 14 times against the Hoosiers, but their length proved the difference. They out-rebounded Indiana, 44-22, and held the Hoosiers to just 0.85 PPP.
---
Head coach Rodney Terry has done a spectacular job with the Longhorns ever since he took over for Chris Beard. This roster isn't as deep as last year's, but this is a team that should remain at the top of the Big 12 all season long.
Notable returns that should play a big impact in this game are Tyrese Hunter, Dillon Mitchell and Brock Cunningham. Between the addition of Admas and Virginia transfer Kadin Shedrick, there's a lot of talent on this team.
But this group is relatively thin, and after playing on Sunday, we may see some tired legs. The Huskies are a very physical group that features more depth, so this isn't a great spot for the Horns by any stretch.
The Longhorns' offense has been excellent thus far, shooting 39% from 3 and almost 60% inside of the arc.
Defensively, I also see a lot of positives thus far in this group. However, the Horns have done a poor job of boxing out and have allowed a good amount of offensive rebounds. Extra possessions could easily be the difference in this matchup.
Death, taxes and Abmas being clutch in crunch time.
Texas spoiled an upset bit from Louisville in the first round of the Empire Classic thanks to a go-ahead contested jumper with just under a second left on the clock. The Texas offense has been humming, despite plenty of transfers, scoring 80+ points in each of its first four games.
Depth is not a strong suit for the Longhorns, but experience is. Among those who play 12+ minutes per game, just one — Mitchell — is an underclassman.
Like UConn, this is an offense that spreads the ball around. The Horns are just outside the top 50 in A/FGM, but sport four separate players with 12+ points per game. Abmas is the obvious leader of this squad, while Shedrick has been extremely efficient in limited time.
Shedrick averages 14.3 points and 4.8 rebounds in just 17.5 minutes per game, and scored 27 points in the win over Louisville.
Shedrick plays a huge role — alongside Mitchell — in a Texas frontcourt that isn't very deep. Both of them will be relied on heavily to limit second-chance opportunities and avoid foul trouble against an aggressive Connecticut bunch.
Texas finds itself inside the top 35 in both Offensive and Defensive Efficiency. Its athleticism on the perimeter often forces opponents inside — 51st in fewest 3PA allowed per game — but it's run into foul trouble issues (264th in FTA/FGA).
This is a team that loves to push transition and has been running hot from the perimeter. Their trio of guards — Abmas, Hunter and Ithiel Horton — have all shot 39%+ from 3.
---
UConn vs. Texas
Betting Pick & Prediction
I'm very torn on picking a side in this game, as I probably will moneyline parlay UConn with another team on Monday to even out the juice. However, I feel really strongly about the over in this game.
I realize the Huskies are excellent defensively, but let's face it, this will be by far the most talented team they've faced thus far. I like the Horns' offense to be able to keep up, especially with multiple players who are capable of getting scorching hot from 3.
Tired legs will be more of a factor for the Horns, considering they aren't a very deep team. This is where I would expect the Huskies to capitalize in the second half.
The offensive rebounding edge heavily favors the Huskies, and I just see too many paths to a lot of points being scored. Texas should keep this relatively close until the end, which would result in a lot of free-throw opportunities.
Pick: Over 143.5 (Play to 145)
I'm a bit concerned for the Longhorns here, who were able to stave off Louisville but now have their hands full.
Texas had to play until the very last second of the game against Louisville, while UConn cruised against Indiana. It's a quick turnaround for both teams, and the advantage lies with the Huskies.
Texas ranks outside the top 140 in defensive rebounding and now draws a matchup with a Connecticut squad that ranks 21st in average height. Clingan is a nightmare, but it's also length out of Newton, Alex Karaban and many more that can cause issues for this not-so-deep Texas squad.
If foul trouble arises early, UT could find itself down double-digits and unable to claw back. The Huskies have been a good defensive squad that wants to funnel the ball inside, and due to their size and pressure, turnovers could be at a constant for the Longhorns.
While I'm weary about laying that many points with the Huskies, I do lean their way — like John. I would rather target the total in this matchup, though.
Texas' offense ranks 41st in average possession length and will likely try to get UConn out of its comfort zone by pushing in transition and not letting Clingan settle under the rim. UT rams transition at the 33rd-highest rate in the country and isn't afraid to let 3s fly.
That plays perfectly into the over in this matchup against a UConn team that's going to have plenty of second-chance opportunities and free throws to drive up the score. Texas just surrendered 80 points to Louisville on Sunday (13 offensive rebounds), a number that should be replicated if not beaten by UConn tonight.
Pick: Over 143.5 (Play to 146)
---
ESPN Bet is now live! Make sure you're ready for all the action with our exclusive ESPN BET promo code TANBONUS.
---