Super Bowl 2023 odds: Betting, prop results; Hurts, Kelce cash bets, Mahomes MVP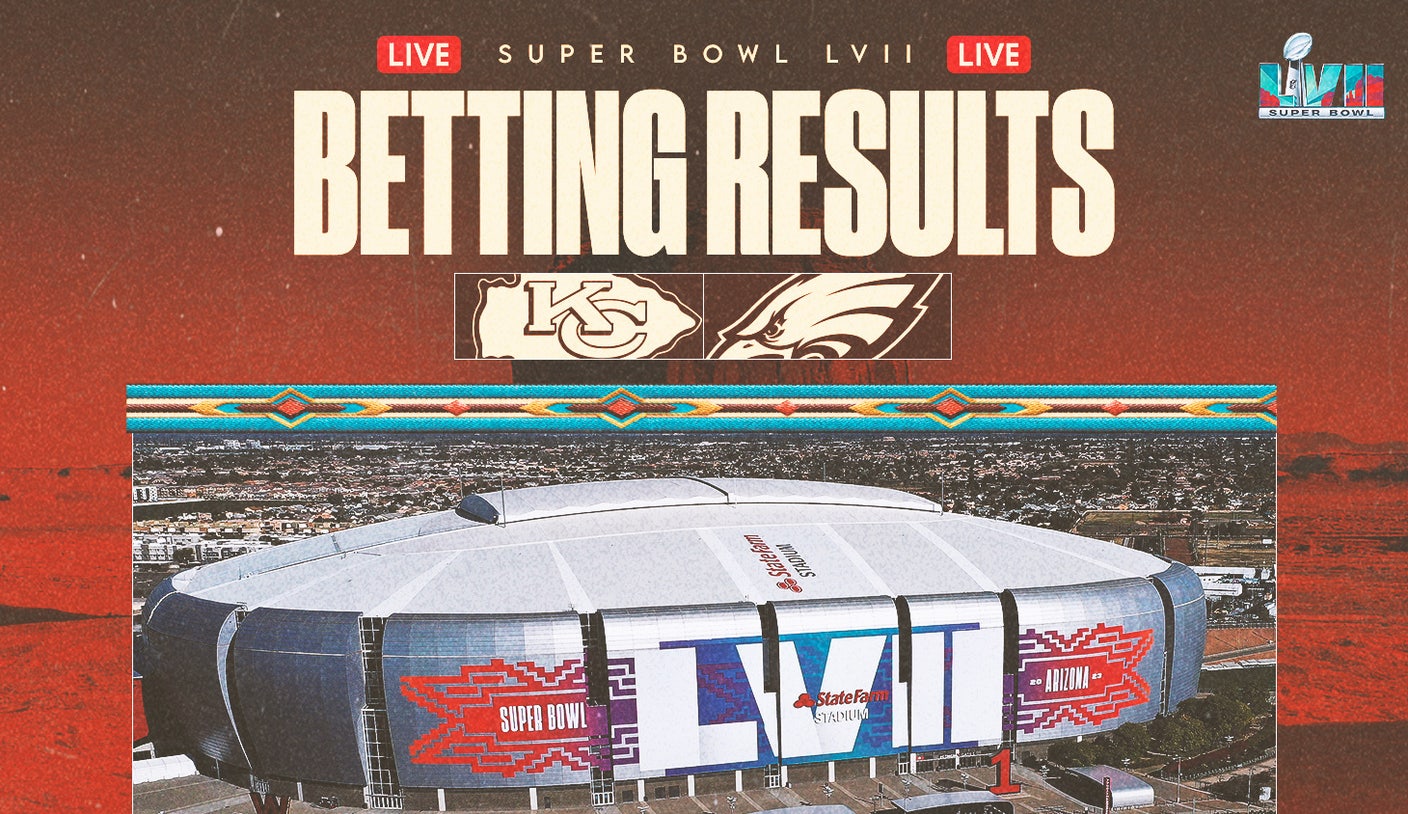 Super Bowl LVII between the Kansas City Chiefs and Philadelphia Eagles in Arizona on FOX and the FOX Sports app was an all-time classic, with the Chiefs rallying for a 38-35 win.
This file kept track of all the notable sports betting results from the Big Game.
Here are all the betting results as they unfolded, from the coin flip and national anthem results to the Super Bowl MVP.
CLOSING GAME LINES
Kansas City Chiefs vs. Philadelphia Eagles (FOX and FOX Sports App)
Point spread: Eagles -1.5 (Eagles favored to win by more than 1.5 points, otherwise Chiefs cover)
Moneyline: Eagles -120 favorites to win (bet $10 to win $18.33 total); Chiefs +100 underdogs to win (bet $10 to win $20 total) 
Total scoring over/under: 51.5 points scored by both teams combined
Grammy Award-winning singer-songwriter Chris Stapleton performed The Star-Spangled Banner before Super Bowl LVII.
The popular prop bet Over/Under on the length of his performance was 2 minutes, 5 seconds (125 seconds) at FOX Bet (-115 for either side).
Super Bowl LVII: Chris Stapleton gives a moving rendition of the national anthem
Chris Stapleton gave a beautiful rendition of The Star-Spangled Banner before Super Bowl LVII.
Stapleton clocked in at 2:02. Didya have the Under?
Another popular pregame bet is the result of the coin toss.
After coming up tails, heads leads the all-time series 30-27 and the Chiefs won the toss.
The Chiefs put an end to the Super Bowl coin flip jinx. In the previous eight Super Bowls, the teams who won the coin flip ended up losing the game.
JERSEY EFFECT
The Chiefs were the visiting team and wore white jerseys, with the Eagles wearing green tops.
PROP BET RESULTS
Opening kickoff
Touchback (-170, bet $10 to win $15.88 total).
First touchdown
After the Eagles running back Kenneth Gainwell's touchdown call was reversed, Philadelphia quarterback Jalen Hurts ran it in for six.
That created a huge betting swing for first-touchdown bettors. Gainwell was a long shot to score the first TD (+2000 at FOX Bet), while Hurts was one of the favorites to find the end zone first at +700.
Kelce responds
Chiefs tight end Travis Kelce was the most-bet player to score an anytime touchdown, and he delivered following Hurts' score (-120, bet $10 to win $18.33 total).
At least one bettor cashed a nice payday, thanks to Patrick Mahomes and Kelce.
Doink!
Bettors cashed in nicely when Kansas City's Harrison Butker hit the upright and missed a 42-yard field goal attempt late in the first quarter.
Bettors cashed in at +750 that the first field-goal attempt would hit an upright or the crossbar
A.J. Brown delivers
Philadelphia took a 14-7 lead in the second quarter when A.J. Brown caught a 45-yard touchdown pass on the first play of the second quarter.
Bettors on a Brown anytime TD cashed in at +140.
Score one for the 'D'
Chiefs linebacker Nick Bolton scored one for the defense … and for some bettors.
Bolton scooped up a Hurts fumble and returned it 36 yards to tie the game at 14 in the second quarter.
Bettors had a nice payday at +700 on a Chiefs defense/special teams TD.
Three-way parlay
Congratulations to the bettor who put down $10 on Hurts, Kelce and Brown to score the first three TDs (in that order).
The bettor is busy counting their $2,000 profit.
First-half moneyline
At FOX Bet, the first-half moneyline was set to Chiefs +110, Eagles -162. As these two squads head into the locker room, the score is Eagles 24, Chiefs 14. So if you took Eagles -162, you're in the money.
First-half spread
The Eagles were the first-half favorites at FOX Bet (-1.5). Philly closed out the half leading Kansas City by 10 points, which means the Eagles flew into the locker room with a first-half cover.
First-half total
FOX Bet set the first-half total to 29.5. Did you bet the Over or Under? Considering how these offenses put in work on the ground and in the air all season, taking the first half Over made perfect sense. 
Hurts rushed for his second TD of the day with less than three minutes to go in the half, and his wheels officially helped eclipse the first half Over of 29.5 for bettors.
LIVE LINES AT HALFTIME
Point spread: Eagles -7.5 (Eagles favored to win by more than 7.5 points, otherwise Chiefs cover)
Moneyline: Eagles -400 favorites to win (bet $10 to win $12.50 total); Chiefs +260 underdogs to win (bet $10 to win $36 total) 
Total scoring over/under: 62.5 points scored by both teams combined
Upon further review …
The Chiefs appeared to score their second defensive TD of the game early in the third quarter on Philadelphia's first play of the second half.
Hurts appeared to complete a short pass to Miles Sanders, who appeared to fumble after getting hit by L'Jarius Snead. Bolton scooped up the ball and ran 24 yards into the end zone but the play was ruled an incompletion after a video review.
Bettors who had the Chiefs defense/special teams scoring two TDs were this close to a big payday.
Over, and out
The Over/Under was 51.5 combined points, and Over bettors started breathing easier early in the fourth quarter when the Chiefs took a 28-27 lead on Kadarius Toney's TD.
The 55 combined points at that point made winners of Over 51.5 bettors.
The teams combined for 25 points in the fourth quarter, which made a bettor smile:
Skyy is the limit
Bettors who put some cash on Chiefs rookie Skyy Moore scoring a TD at +650 hit a big payday as Kansas City extended its lead to 35-27.
One bettor turned $5,000 into a $32,500 profit, thanks to Moore.
Octopus pays off
Not only has Hurts scored three rushing TDs and thrown for more than 300 yards, he paid off for octopus bettors.
Octopus bettors? What's that?
An octopus is when a player scores a TD, then follows it up with the ensuing two-point conversion.
Hurts did it in the fourth quarter, with his two-point conversion tying the game at 35.
A bettor who backed Hurts to record an octopus paid off at a cool +1400.
Purple rain
There was a shocking upset immediately after the game as Chiefs coach Andy Reid was doused with …
Purple Gatorade?
Purple was +800 in hypothetical odds at FOX Bet, second-longest on the board ahead of only no postgame dousing.
M-V-P!
Mahomes, who was 21-for-27 passing for 182 yards, three touchdowns and no interceptions, was named the game's MVP. He was +130 to win the award in pregame odds at FOX Bet.
Mahomes, the NFL MVP, is the first player to throw for more than 5,000 yards in the regular season and win Super Bowl MVP that postseason.
Final score payoff
In addition to Chiefs fans, one bettor was thrilled when Butker kicked the winning field goal to give the Chiefs the lead.
The bettor put down $100 at +32000 odds that the Chiefs would win 38-35.
The bettor collected a nice $32,000 win!
September investment pays off in February
Hopefully, this bettor kept his ticket safe all these months …
One bettor invested $130 in September (before the season started) that the Chiefs would beat the Eagles in Super Bowl LVII.
The bettor earned a $19,500 profit on Sunday.
Turning $200 into nearly $50K
One of the happiest Super Bowl bettors was this person, who turned a $200, six-leg in-game parlay (+24736) into a $49,472 profit!
Ultimately, Chiefs backers cashed in as they covered the spread, won on the moneyline and Mahomes won MVP. From a total perspective, the game went Over. What a year for Mahomes & Co.!
Even though the NFL season is over, there are so many other sports to bet on, so head over to FOX Bet to get in on the action now!
Super Bowl coverage:
Top stories from FOX Sports:
Play FOX Super 6 every week for your chance to win thousands of dollars every week. Just download the Super 6 app and make your picks today!
---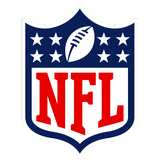 Get more from National Football League Follow your favorites to get information about games, news and more
---