Steve Sarkisian Comments on Brett Yormark Attending Final Texas Big 12 Home Game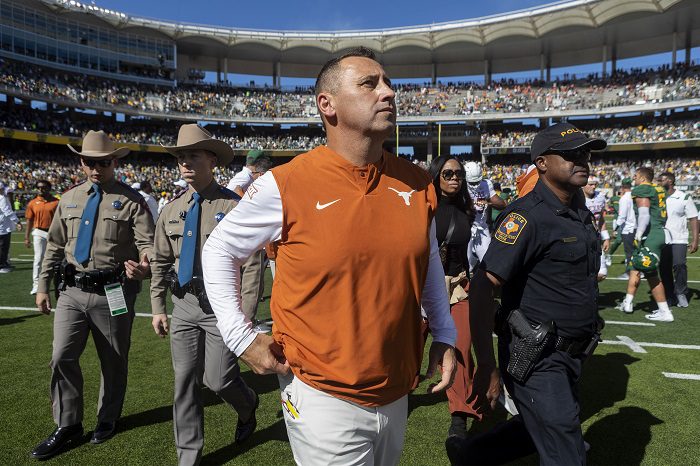 While Big 12 Commissioner Brett Yormark made headlines at a Texas Tech luncheon back in August discussing the Red Raiders Week 13 matchup against Texas, Longhorns head coach Steve Sarkisian mentioned Yormark's attendance at the game is a big positive for the league.
Sarkisian mentioned that he hopes the Longhorns put on a "heck of a show" for Yormark and that he's hopeful that Yormark is proud of the way Texas is representing the league through their play.
Sarkisian's full comments read, "Hopefully we put on a heck of a show for him. That's what I want. He's the commissioner of our conference, and I'm hopeful that when he watches us play, he's proud of the way that we play representing the Big 12 because that's the conference we're in right now."
The Longhorns have a final matchup with Texas Tech to close out the regular season, and in the event that they handle business in Austin, Texas will be advancing to their first Big 12 title game since the 2018 season.
Texas Tech on the other hand is looking for their fourth straight win to close out the season against the nation's 7th-ranked team. The Red Raiders have put together solid outings in three straight games against UCF, No. 16 Kansas, and TCU, and will now look to do the same against Texas.
The Week 13 game between Texas and Texas Tech kicks off on Friday, November 24th at 6:30 PM CT in Austin, live on ESPN.