Russians assaulted, threatened and abused in UK as hate crimes linked to Ukraine war surge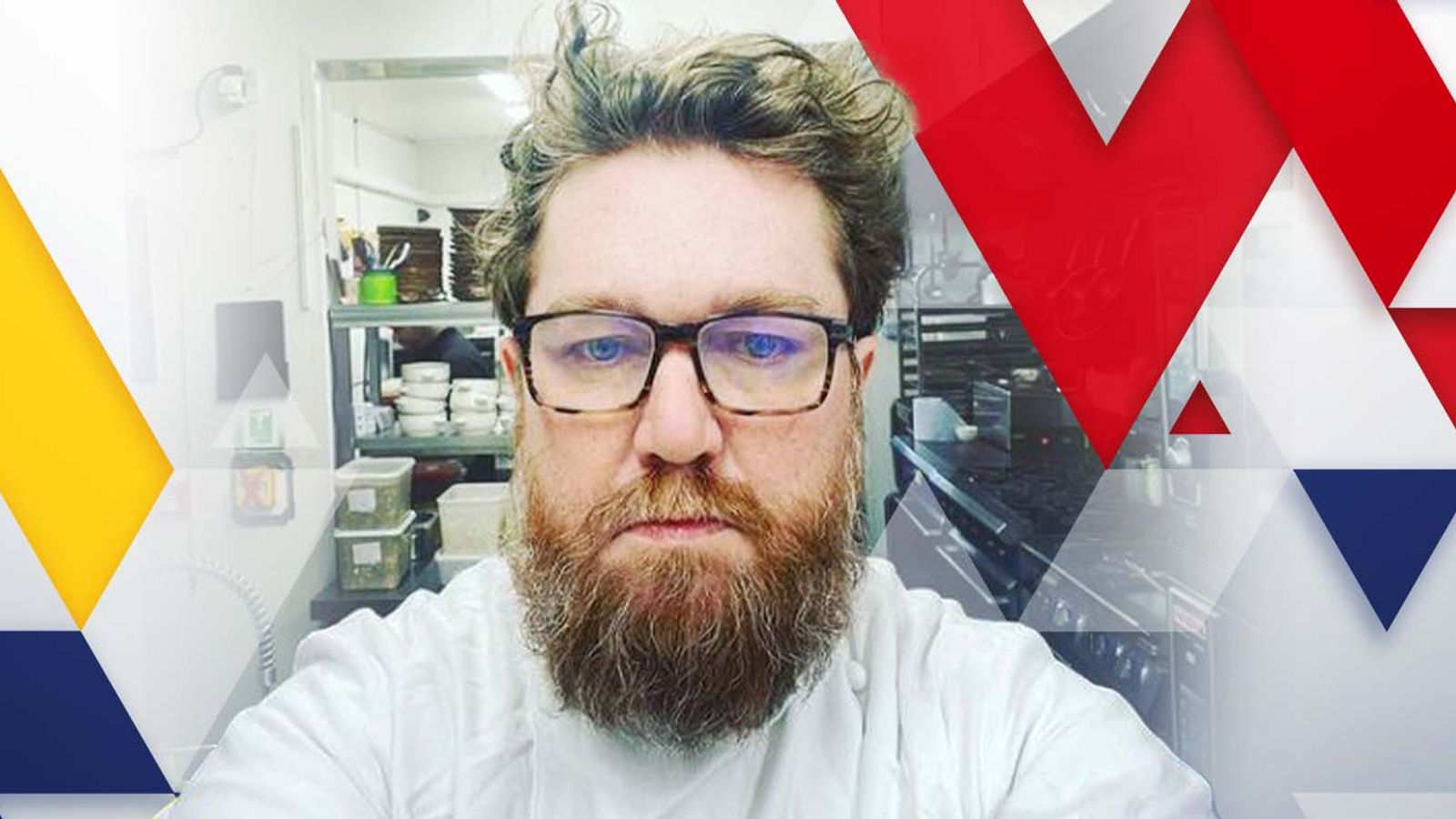 Russians in the UK have been subjected to violent assaults, threats and vandalism in the last year, as new figures suggest a surge in hate crime linked to the war in Ukraine.
A Sky News investigation has found details of dozens of race hate crimes against Russian nationals in Britain since 24 February 2022, the date Vladimir Putin began his invasion.
One large police force in England saw anti-Russian offences more than double in the last year compared to 2021, while a charity revealed that children of primary school age have been victims.
An expert has warned that the number of recorded offences is likely to be the "tip of the iceberg" as many go unreported, and the spike is expected to continue for the duration of the war.
Among the offences:
• An assault was reported on a building site in Derbyshire, where a worker told the victim: "I hate you Russians – you kill people," before the attack started.
• Hertfordshire Police revealed details of a racially-aggravated assault where the victim was pushed to the floor at a crossing and told: "All Russians are murderers."
• A suspicious white powder was sent to a London law firm, with a letter condemning its ties with Russia and containing "pro-Ukrainian content".
• Devon and Cornwall Police said a victim was followed around a supermarket by someone "calling them names and threatening to kill them because they are Russian".
• A woman, originally from Russia, living in North Wales was abused by a neighbour who said: "Why are you still here? F*** off home". A note was also left on her postbox telling her to go home and the abuse was thought to be "connected with Russia's offensive in Ukraine", police said.
• In Dorset, paint was poured on the bonnet of a vehicle overnight – with the victim suspecting it was due to their Russian nationality.
• In Lancashire, a suspect repeatedly called a victim from a withheld number, and left a message saying: "Are you Russian c**ts? You still f*****g trading in the UK? You f*****g scumbags, (I'll) come to your f*****g shop soon".
• An "obscene word" was written on a woman's car in North Wales, which the victim believed was "due to the mistaken belief that she was Russian".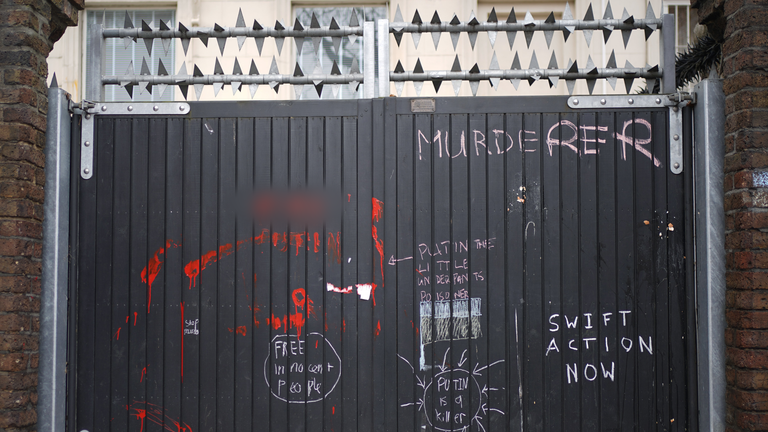 What does the data show?
The crimes were revealed after Sky News sent freedom of information (FOI) requests to the UK's 45 territorial police forces and British Transport Police (BTP).
Greater Manchester Police said 13 race hate crimes against Russian victims had been recorded since the invasion of Ukraine – up from six in 2021 and two in 2020.
Derbyshire Police has recorded four anti-Russian offences since 24 February 2022 – compared to zero crimes in 2021 – including assault causing actual bodily harm, criminal damage and racially aggravated harassment.
Cambridgeshire Police said it had seen seven race hate crimes against Russian victims since the war in Ukraine – the same number as in 2021 – including racially-aggravated common assault or beating and harassment.
Meanwhile, BTP have recorded three anti-Russian offences during the Ukraine war, having recorded none in 2021.
City of London, Dorset, Kent, Avon and Somerset, Hertfordshire and Lincolnshire police forces have also recorded race crimes against Russians since the conflict began.
The Metropolitan Police refused to answer Sky News' FOI request, saying it would cost too much to retrieve the information. However, the force has previously revealed it recorded 16 hate crimes against Russian victims in the first two months of the war in Ukraine, compared to 22 offences across the whole year before the invasion.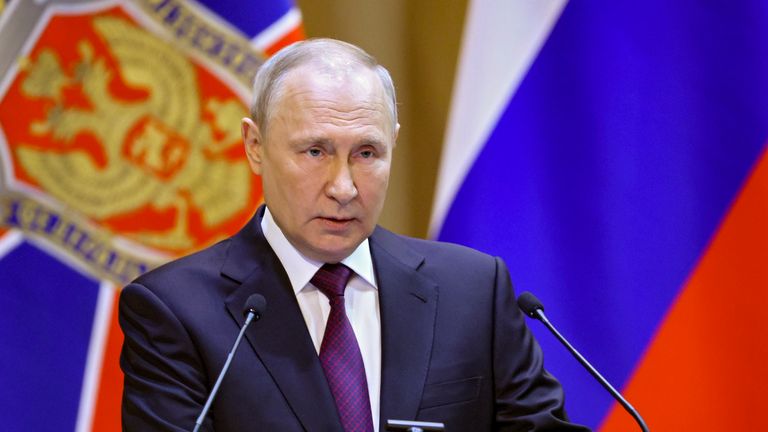 In total, just 14 forces provided relevant data on race hate crimes or similar incidents targeting Russian people in the UK during the war in Ukraine.
The remaining forces either did not respond to Sky News, refused to provide the information on cost grounds or said they had no recorded anti-Russian offences.
Some forces admitted the nationality of victims was often not recorded for race hate crimes, with Avon and Somerset Police saying it appeared to have been completed "only 10% of the time".
'You Russian pigs'
Russian chef Alexei Zimin told Sky News that his London restaurant received threatening calls and had bookings cancelled in the early weeks of the invasion of Ukraine.
Despite being an opponent of the war, he revealed people had said: "You Russian pigs" and "you need to close your restaurant or we'll do it", and a police officer was once sent to their building over an apparent threat.
Mr Zimin's restaurant Zima has donated about £30,000 to the Red Cross for Ukrainian refugees and his vocal anti-war stance has led to the cancellation of his cooking show on Russian TV.
He said he expected repercussions for voicing opposition to the war "because I know my country".
Asked if he would feel safe returning to Russia, Mr Zimin replied: "I don't know…. I don't want to check.
"I haven't been in Russia for more than a year.
"Most of my friends are now in different countries."
Primary schoolchildren targeted
The charity Victim Support said it had seen a "flurry" of anti-Russian hate crimes in the early weeks of the war in Ukraine, including incidents of "hate-related bullying" in schools.
Some victims were of primary school age, it added.
Becca Rosenthal, hate crime operations manager at Victim Support, told Sky News: "Quite often with children and adults, it's got that narrative of: 'Go back home'."
She said Victim Support had also seen cases involving "anti-Ukrainian rhetoric" and victims from other countries being targeted in the mistaken belief they are Russian.
'A lot of Russians support Ukraine'

'Tip of the iceberg'
Mark Walters, professor of criminal law and criminology at the University of Sussex, said "trigger events" lead to increases in certain types of hate crimes.
"With Brexit, we had a big spike in racist hate crimes," he told Sky News.
"With the pandemic, we saw a spike in anti-Chinese and anti-Asian hate crime.
"With the war in Ukraine, you'll see there will be a spike in anti-Russian hate crimes… that will probably last as long as the war lasts."
Prof Walters warned that hate crimes are under-reported, adding: "While I think the figures will definitely show there's been a spike… I would have no doubt that will probably be just the tip of the iceberg."
A Home Office spokesman told Sky News: "Hate crime is a scourge on communities across the country. It does not reflect the values of modern Britain.
"While the rise in cases is likely to be largely driven by improvements in police recording, these are serious crimes and we expect the police to fully investigate these hateful attacks and make sure the cowards who commit them feel the full force of the law."