Prince Harry addresses 'Spare' backlash in interview: 'I have never looked for sympathy in this'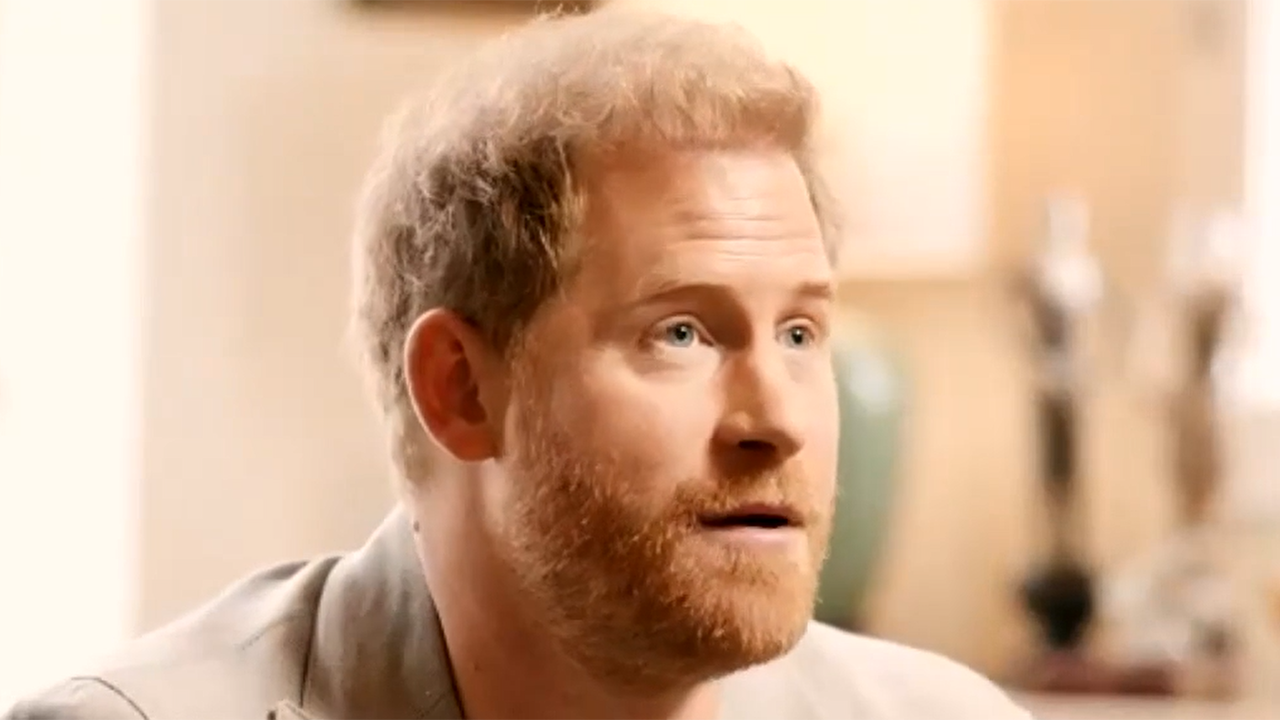 After doing minimal press for his explosive tell-all "Spare," Prince Harry is now acknowledging the backlash he has received to his book as he aims to reset the conversation.
"I certainly don't see myself as a victim," the Duke of Sussex told psychotherapist Dr. Gabor Maté in a discussion for Random House.
"I'm really grateful to be able to share my story in the hope that it will help, empower, encourage others. . . . And hopefully, let people understand that again, back to this human experience that we all in some shape or form, [are] all connected, especially through trauma," he added.
"I do not and I have never looked for sympathy in this," the prince reiterated.
RONALD REAGAN'S DAUGHTER PATTI DAVIS WARNS PRINCE HARRY AHEAD OF BOOK RELEASE: 'BE QUIET'
Maté suggested that there were "two divergent streams of responses" to Prince Harry's memoir: One seems hostile and views the prince as "wallowing in self-pity and presenting [himself] as a victim." The other response has been from those who are "just so grateful that this is happening, 'cause they are craving an honest conversation about loss and grief and trauma and woundedness and healing."
"For me, the experiences that I've had throughout my childhood, throughout my life, throughout my 38 years, albeit relatively short. . . . I'm not looking forward to becoming 40, that's for sure. . . . But through those experiences and through the work that I have done for two decades now around mental health and mental illness, I've always felt as though sharing whatever I can of my story will help someone or some people out there," Harry explained of why he wrote the book.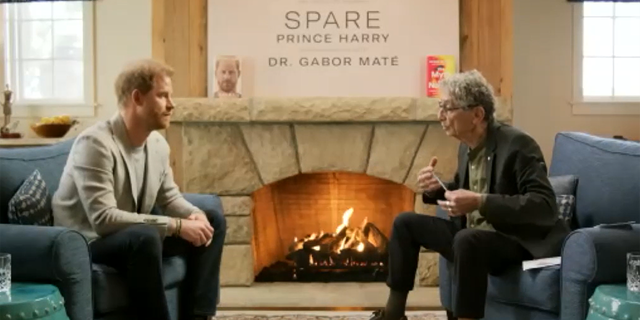 Despite some believing that he's seeking sympathy, "Spare" was an opportunity for the prince to tell his story.
"There are people who have shared things of my life, outside my control, be it true or false. But to be able to share the things of my life that I think are important, for other people, it does, it feels good. But to me, it feels like an act of service," he acknowledged.
Much of his book was a love letter to his mother, the late Princess Diana.
"One of the things I was most scared about was losing the feeling that I had of my mom. I thought that if I went to therapy that it would cure me, and that I would lose whatever I had left, whatever . . . I had managed to hold onto of my mother. And it turns out it wasn't the case, I didn't lose that," he told Maté.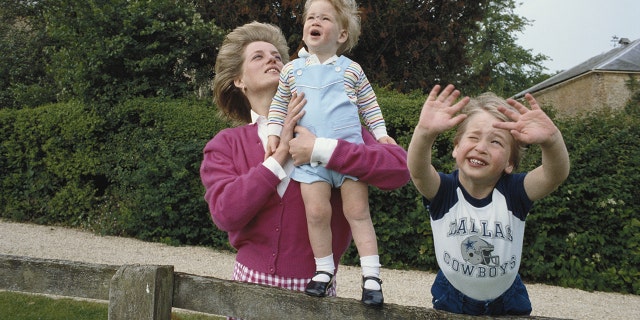 PRINCE HARRY RIPS PRINCE CHARLES' PARENTING, SUGGEST ROYAL IS THE REASON HE 'SUFFERED'
"It was the opposite, I turned, I turned what I thought was supposed to be sadness, to try to prove to her that I missed her, into realizing that actually, she really just wanted me to be happy. And that was a huge weight off my chest."
In the book, the Duke of Sussex details learning of his mother's tragic death, directly from his father, now King Charles. 
"You're alone in your room and your father comes in to tell you the news. He touches you on the knee I think, in an encouraging fashion and says 'It's going to be okay,' and walks out. And you're left on your own," Maté says of the moment. "And what struck me in that passage, as in so many other passages in the book, is the lack of touching. The lack of a child being held."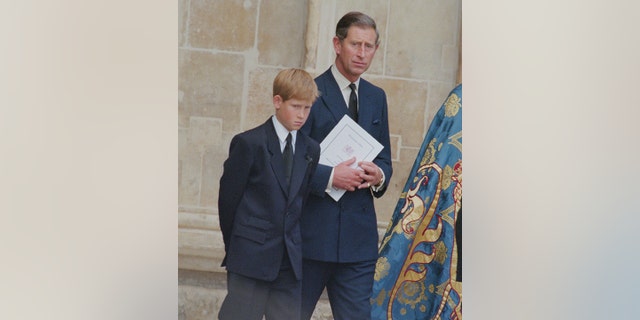 "What is it about the lack of holding and touching and cuddling, in this family, and it's obviously multi-generational, and how do you think that affects a young child, now that you're a father yourself, where does that leave a young child," the author of "The Myth of Normal: Trauma, Illness, and Healing in a Toxic Culture" asked the prince.
"Well you're the professional, you can tell me," Harry responded. 
"Where did it leave you," Maté clarified.
"Where does it leave me? It leaves me in the position now as a father, with two kids of my own, making sure I smother them with love and affection. . . . Not smother them to the point where they're trying to get away, and I'm like, 'No come here, I need to hug you . . . ' but in the sense that, you know, I, as a father feel a huge responsibility to ensure that I don't pass on any traumas . . . or any I guess, negative experiences that I've had as a kid or as a man growing up, and that's work."
With wife Meghan Markle, Prince Harry shares son Archie, 3 and daughter Lilibet 3. The couple were married in 2018 and famously stepped away from their duties as senior royals in early 2020.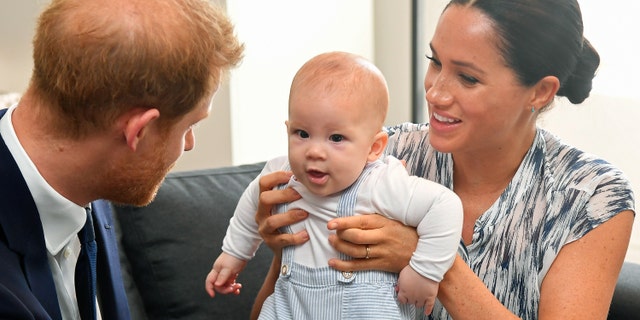 CLICK HERE TO SIGN UP FOR THE ENTERTAINMENT NEWSLETTER
Harry admits he would not be the parent he is today had it not been for the therapy he had received. He also shared that while he doesn't know the direct impact his upbringing would have had on his two children, one with a lack of affection, he thinks "the result would be very similar."
"And that's why, again, I am grateful to have been able to change my environment. Which I fully appreciate that not everyone can do," he says of leaving England in 2020 and moving to Southern California.
"The way that I understand it is, you can everyday try your best to make sure that you don't hand on any traumas that you have as a parent, but if you're still stuck within the same environment, it kind of almost feels self-defeating," the Duke explained of why moving out of the UK was so transformative for his family.
With that being said, Harry is reluctant to say he did not grow up well.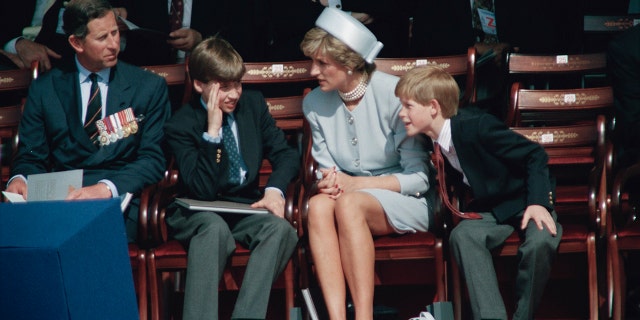 "I had an incredible childhood, as far as I can remember. Elements of it. . . . And elements of it were incredibly painful."
"I'm shaking my head here, because when I read your book . . .it was a story of depravation," Maté told the prince.
"And I don't mean depravation on the physical level. On the physical level, you're a scion of one of the richest families in the world and gilded with power and privilege. But if I think of a little child, who's born into a marriage where there is a lack of love between their parents, where there's conflict, where there is, again this is multigenerational, we're not blaming anybody, but when there is infidelity," he listed of the several tribulations Harry's family endured when he was a child.
"Where the father who clearly loves his kids, but he can't help but be emotionally distant, because that's how he was raised, where the father himself, this is Charles, was bullied mercilessly as a kid, where he was made fun of for his best qualities of sensitivity . . . and intellectual interest, where people are not held and hugged. You know, animals hug their kids," Maté continued.
CLICK HERE TO GET THE FOX NEWS APP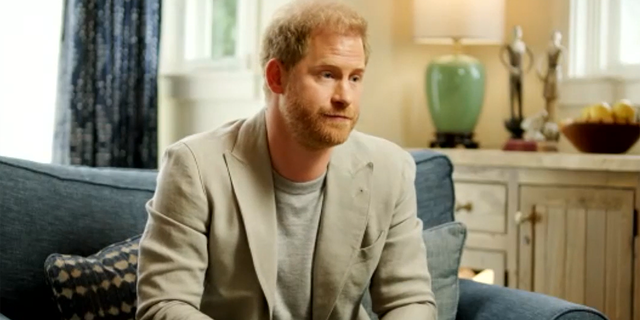 Harry agreed, saying, "It's the first thing we do as parents when you have a child . . . skin-to-skin."
"When I think of it from that point of view, it's a story of depravation," Maté explained. "And it's not because people didn't love you. It's because they were limited themselves in their own capacity to respond emotionally."
This detachment is what Prince Harry is looking to eliminate in his own role as a parent.
"We only know what we know, and for myself and for my wife, you know, we do the best that we can as parents. . . . And learning from our own pasts and then overlapping those mistakes, perhaps, and being able to grow together in order to be able to provide for our kids and to be able to break that cycle," he said of his parenting style with Markle, whose parents also had divorced. 
"I think that's so important. It's not easy. And we certainly didn't make friends in the process in the short term," he noted.