Bill O'Brien gives brutally honest assessment about his job performance with Patriots this season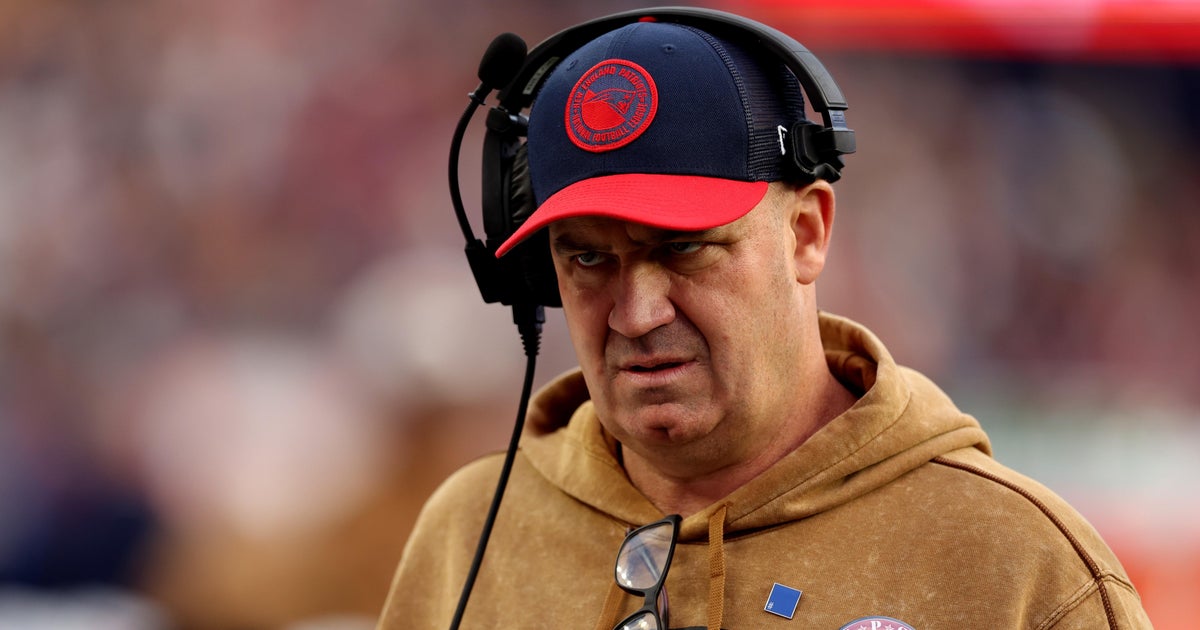 BOSTON — Last year, the Patriots went to work with a tremendously underqualified offensive coordinator. It went poorly.
This year, the Patriots went to work with an overqualified offensive coordinator. The results, though, have been just as bad … if not worse.
Surely, when the Patriots hired Bill O'Brien to replace the miscast Matt Patricia, the hope was for the Patriots to at least gain their footing in the top half of the league in offense. The personnel deficiencies at wide receiver and on the offensive line were known, but with a seemingly intelligent, young quarterback being guided by an extremely experienced offensive coach, reasonable expectations saw the Patriots' offense looking like a competent NFL operation this year.
Yet through 11 weeks, the Patriots rank 31st in points per game (14.1), 26th in yards per game (294.5), 26th in third-down offense (34.1 percent) and dead last in average time of possession (27:18).
With seemingly everything up in the air in Foxboro — including the starting quarterback and the long-term status of the head coach — O'Brien was asked on Monday if he hopes to get back into the head coaching world one day. His answer was brutally honest.
"You know what, Andrew? I don't know. I really just — it's not a cliche to say — I really try to do the best job I can. I have to do a much better job in the job that I have right now," O'Brien said. 
O'Brien was the de facto offensive coordinator in New England in 2009 and 2010 before officially getting the title in 2011. He left to become head coach at Penn State for two years before heading back to the NFL to be the heasd coach of the Houston Texans from 2014-20. He stayed in coaching as the offensive coordinator/quarterbacks coach at Alabama for two seasons before returning to New England this year. Outside of that, he has two years of experience as Duke's offensive coordinator and two years of experience as Georgia Tech's offensive coordinator, plus lower-level assistant roles early in his coaching career at Brown and Georgia Tech.
"I've been doing this for 31 years. I've served every single role on a coaching staff in an organization that you can pretty much serve. And so I think right now for me, it's got to be — I gotta do a better job of what's going on here right now to try to have a more productive offense," O'Brien said. "So, you know, that's what it is. It's not a cliche; that's the truth. That's just the way it is. And so, I have to do better at this job. That's the big thing for me personally."
Perhaps the biggest question facing him in that job right now is which quarterback will be his starter this week. While Mac Jones has started all 10 of the Patriots' games this year, he's been pulled out of 30 percent of those starts. Bailey Zappe has not been much better, third-stringer Will Grier hasn't played in an NFL game since 2019, and undrafted rookie Malik Cunningham probably isn't ready to lead an NFL offense for a full 60 minutes.
While O'Brien is in charge of the offense, he said the decision on the starting quarterback ultimately isn't his to make.
"I think assistant coaches make recommendations and head coaches make decisions," O'Brien said when fielding a question about Cunningham. "And so that'll be up to Bill [Belichick]."
Later in his talk with reporters, O'Brien was asked if he had made his recommendation to Belichick. O'Brien opted to keep any such conversations private, while also revealing that owner Robert Kraft could be a part of those discussions.
"I think that anything that's spoken about within the organization and football — this is just me — stays within the organization, within the staff. I definitely appreciate the question and I know why you would ask the question. But I think that anything that's spoken about between myself, the quarterbacks, Bill Belichick, Robert Kraft, whatever, stays in the in the organization," O'Brien said. "I have a strong belief in that."
While the questions naturally focused largely on the quarterback, O'Brien placed Jones' performance in the context of the entire offense.
"The quarterback and the head coach in this business, they get a lot of glory when you win, and then they get a lot of grief when you don't win. That's understandable. Those are the guys at the top there," he said. "But at the end of the day, there's a lot of other people involved. I really believe this. Whether it's the offensive line, the running backs, the wide receivers, the tight ends, everybody can do a little bit better. And we've got a lot of good guys in that room and they're working really hard. I've been on teams — not many — but I've been on teams in the past that are in this position and really had a hard time dealing with it. This team does not. This team comes back to work, they believe in each other, there's a work ethic here. We just all have to do a better job. I don't think it comes down to one position. If you really dissected every single play, you're trying to get 11 guys to do the right thing on every single play. That's hard to do. Right now, we're not able to — we don't have that consistent enough. And so we've got to do that. And then once we do that, I think everybody will be playing better and I think we'll be better coaches."