Banksy revealed his first name in a lost interview recorded 20 years ago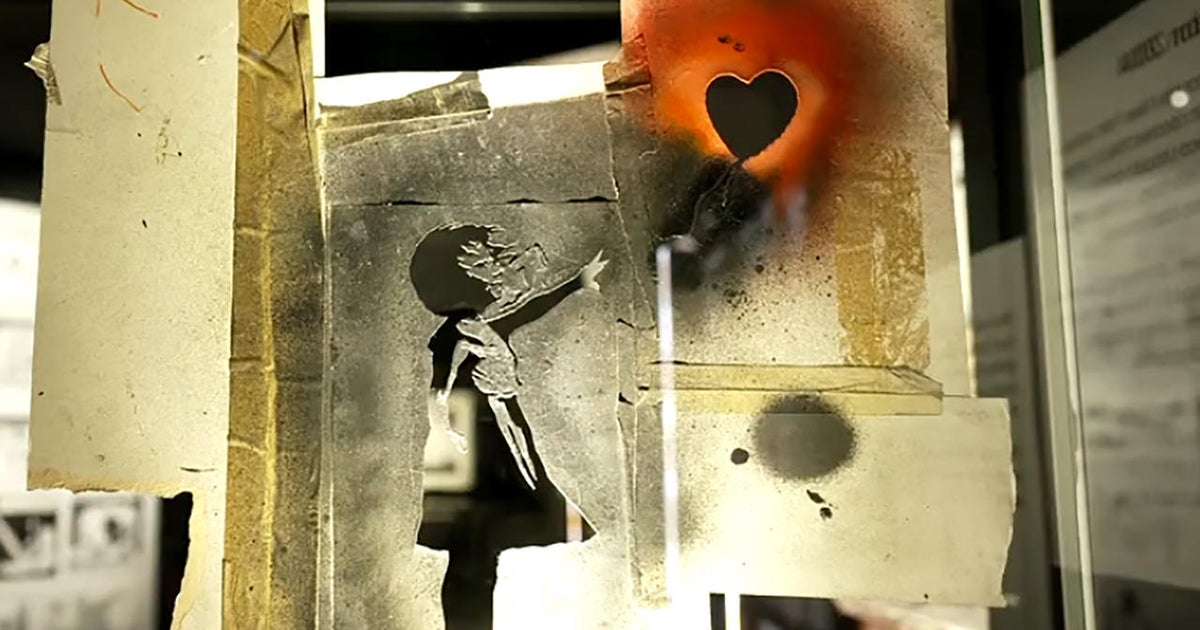 Banksy – the elusive but world-renowned artist – has remained anonymous since the 1990s, but the mystery man did divulge his first name once, back in 2003, a previously lost BBC interview has revealed.
In a radio interview with BBC reporter Nigel Wrench, Banksy talks about the quick graffiti skills that have made him famous while simultaneously keeping him anonymous. Wrench asks the artist if he is named "Robert Banks," to which Banksy replies, "It's Robbie."
At the time of the interview, Banksy was promoting his "Turf War" show in a warehouse in London. The radio interview was edited, according to the outlet, so the name reveal was not included when it initially aired.
But Wrench was recently listening to a BBC podcast about Banksy and it reminded him of his 20-year-old interview, according to the outlet. It prompted him to find the full recording at his house, and he uncovered Banksy's secret reveal. BBC has released a bonus episode of its "The Banksy Story" podcast in light of Wrench's discovery.
In the 2003 interview, the artist also defended his work, which often involves tagging buildings with graffiti, a method some consider vandalism. "I'm not here to apologize for it," he said. "It's a quicker way of making your point, right?"
"In the same way my mother used to cook Sunday roast every Sunday and says every Sunday: 'It takes hours to make it, minutes to eat,'" he said. "And these days she eats microwave meals for one and seems a lot happier. I'm kind of taking that approach to art really. I want to get it done and dusted."
Banksy's art has evolved from graffiti, but still makes waves with its social statements and stunts. In 2018, a framed image created by Banksy was sold at auction for $1.4 million – but it self-destructed. A hidden shredder activated, and the painting was sliced into strips. The crowd at the auction was shocked by the destroyed painting, but the person who bought it went through with the sale. 
And in 2021, the shredded remains of that painting were auctioned again, going for a whopping $25.4 million.
His graffiti recently cropped up across Ukraine amid the war with Russia, including a mural of a boy defeating a bigger man in a karate uniform and an image of a gymnast – both painted on the remains of destroyed buildings.
Who is rumored to be Banksy?
While his art is recognizable, the man himself isn't – but that hasn't stopped people from thinking they know his true identity. In 2016, a graduate student in the U.K. named Craig Williams theorized in a blog post that Banksy was Robert Del Naja, a member of the hip hip trio Massive Attack. Del Naja was a graffiti artist known as 3D, who has been linked to Banksy, Williams said. 
He said Banksy's surprise murals often pop up in cities where Massive Attack is touring at the same ti,e – putting Del Naja in the right place to be the artist behind the graffiti. Williams later backtracked and said he thinks Del Naja might be one of several artists who collectively made up Banksy.
Del Naja tried to dispel the rumor at a 2016 concert, reportedly telling the crowd: "We are all Banksy."
He later clarified in a statement to the Daily Mail, saying the rumors about his secret identity are exaggerated. "It would be a good story but sadly not true. Wishful thinking, I think," he said, adding that he and Banksy are friends and the artist had been to some of his shows.
In 2020, rumors circulated on social media that fellow Massive Attack member Neil Buchanan was Banksy, but he denied the claims in a strong statement, according to BBC News.
Myths about the mystery artist have long circulated and in 2004, a photo of a graffiti artist in Jamaica that got widespread attention was rumored to show Banksy at work. 
Banksy denied it was him in the photo, but the Daily Mail began an investigation, taking the photo to Bristol, where it is rumored Banksy grew up. They asked people if they recognized the man in the photo – until one person said it could be someone named Robin Gunningham. 
The man said Gunningham changed his name to Robin Banks and went by Banksy. Daily Mail said some of the few details Banksy has revealed about his life matched up with Gunningham's, but his family denied he was Banksy. But earlier this year, the Sunday Times and Daily Mail reported that Gunningham is named as a defendant in a defamation trial against Banksy – which could force him to reveal that he is the artist, if true. 
In 2022, a councillor for a small U.K. town resigned after rumors swirled online that he was Banksy, according BBC News. Billy Gannon denied that he was the artist and said the claims undermined his ability to work.
He told the Guardian he believes the rumors were started by a rival council candidate.