2023 WAC Basketball Tournament Betting Preview, Bracket & Odds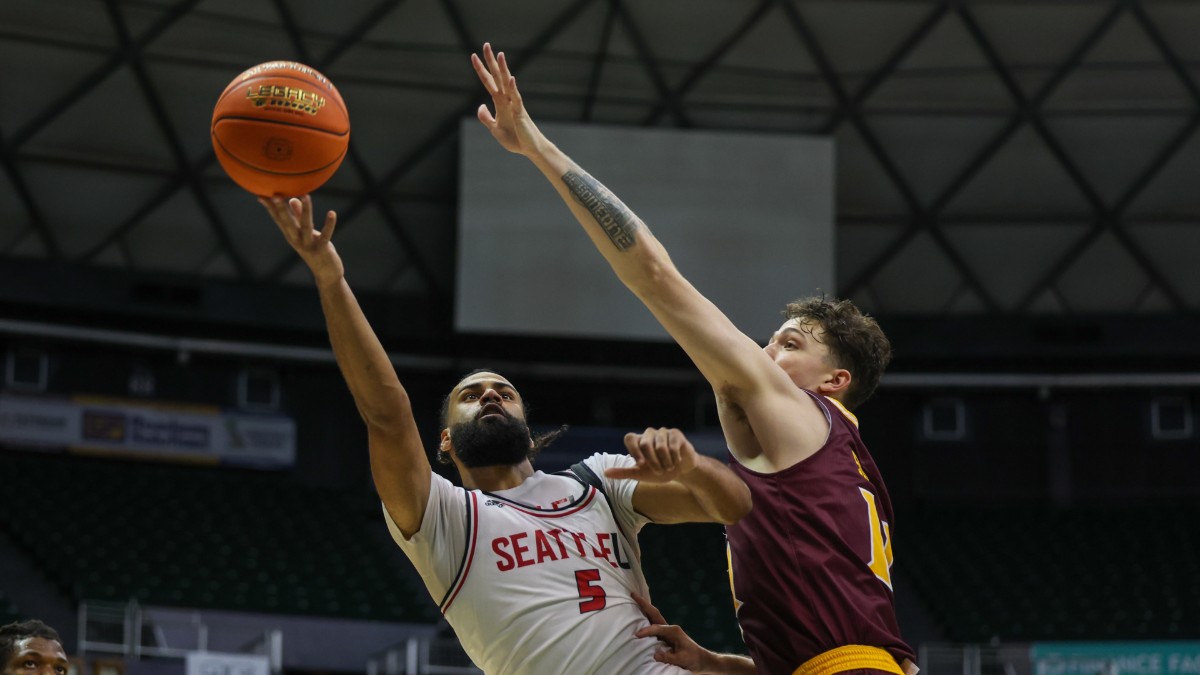 Welcome to the Wild, Wild WAC!
It has certainly been that this year — primarily due to the nightmare of a season that New Mexico State had.
The league's perennial favorite had plenty of off-court issues and started league play 0-9. The Aggies' administration ultimately cut the season short and fired first-year coach Greg Heiar amid hazing allegations.
Without NMSU, which has won this event eight of the last 10 years, the tournament is wide open.
But first, the basics: the event is played in Las Vegas, with all 12 (not suspended) teams taking part.
The first round is Tuesday at Michelob Ultra Arena before shifting over to the Orleans Arena from Thursday to Saturday.
The top four teams received byes: Utah Valley, Sam Houston State, Southern Utah and Seattle.
What's unique is how that top four was determined. The conference instituted a Resume Points seeding methodology this year, developing a formula in conjunction with Ken Pomeroy that includes non-conference performance.
The first of its kind, it's a creative way to frame full-season performance.
---
2023 WAC Tournament Bracket
---
---
From start to finish this year, UVU and Sam Houston have been the best two teams in the league. UVU nearly won at Wake Forest in November and won at BYU and Oregon in December before an impressive 15-3 run through the league.
The Bearkats, meanwhile, won at both Utah and Oklahoma to start the season.
Utah Valley has one of the best interior defenses in the country. Losing Defensive Player of the Year Fardaws Aimaq would cripple most WAC squads, but coach Mark Madsen scooped a top-shelf replacement in Aziz Bandaogo from Akron.
He leads the conference in both defensive rebound rate and block rate.
A lengthy backcourt led by a trio of 6-foot-4 stalwarts boosts the team on both ends. Trey Woodbury is the playmaker, Le'Tre Darthard is the shooter and Justin Harmon does everything.
That group has helped elevate UVU to its best season ever, per KenPom.
In fact, the program has been so strong that it may be in a battle to keep its coach. Madsen, a Stanford alum and former player, has been rumored as a replacement at his alma mater if Jerod Haase is let go.
SHSU may be new to the WAC — it joined from the Southland in 2021 — but the Bearkats have not skipped a beat. Jason Hooten has won year after year since arriving in 2010, and he's already 27-9 in the WAC.
This year's team has been carried by two primary factors: an elite pressure defense and pinpoint perimeter shooting.
Hooten's defenses are always predicated on trapping and forcing turnovers. Five straight SHSU squads have ranked top-50 nationally in defensive turnover rate. But this year's version is accentuated by stout interior defense, raising it to Hooten's best unit in his tenure.
Kansas State transfer Kaosi Ezeagu has fortified the paint. Though not an elite shot-blocker, he's a 6-foot-10 space-eater near the bucket.
If opponents can evade steal mavens Qua Grant and Javion May, they struggle to finish against the Ezeagu and athletic forward Tristan Ikpe.
---
Other Contenders and Dark Horses
The other two teams with a bye probably qualify as "favorites" given that they only need to win three games.
For the purposes of this analysis, though, we're lumping them into the "Sleepers" category.
Southern Utah (+800) and Stephen F. Austin (+700) are next in line. SUU has an incendiary scoring attack, led by big wing Tevian Jones. The Thunderbirds beat both Utah Valley and Sam Houston this year, proving their upside in a one-and-done event.
SFA faces a difficult road despite the third-lowest odds. The Lumberjacks have to knock off Utah Tech before going head-to-head with SUU.
If you forced me to dig further down the list, Seattle (30/1) may actually have some value. The Redhawks are in the quarterfinals already (unlike SFA) and possess one of the best defenses in the league.
The offense struggled mightily in league play, but there's talent here.
Cameron Tyson is a human stick of dynamite, capable of exploding for 30+ at any moment. He took 10+ 3-pointers 14 different times this year; the Redhawks need him to be hot in Vegas.
Additionally, key wing Riley Grigsby appears healthy after battling injury late in the season.
Seattle's biggest issue is point guard play. Too often, Alex Schumacher had more turnovers than assists.
Cal Baptist has some mild intrigue given the presence of Taran Armstrong (a fringe pro prospect at lead guard) and a cadre of shooters. Those shooters finally started to convert late in the season — the Lancers could make a run if that continues.
Grand Canyon (20/1) has some appeal, but the Antelopes must win a first-round game before squaring off with Seattle. They impressively won at SUU and Utah Tech to close the year.
Rayshon Harrison emerged into a bona fide star after preseason WAC Player of the Year Jovan Blacksher tore his ACL.
The aforementioned Utah Tech and four Texas schools — Tarleton State, Abilene Christian, UT Arlington and UTRGV — don't appeal to me.
---
Likely NCAA Tournament Seeds
UVU and SHSU's fantastic non-conference wins likely slot them on the 13-seed line.
Both teams' defenses will give them a chance to compete with big boys.
Considering the quality of road victories each claimed, four-seed opponents would be wise to not look past them.
Other champions would slide in at the 14- or 15-seed lines.
---
WAC Tournament Betting Recommendations
No lines are out yet for the four Tuesday openers, but one matchup jumps out to me as potentially having value.
In one meeting this year, Grand Canyon battered UT Arlington, 80-48.
Fast forward to March, and UTA is now in the precarious position of having fired its coach before the season ended. The Mavericks lost their last two games by 19 and 24 points, respectively.
Now facing a GCU team that can thrash them in the paint, I fear for the Mavs' outlook. I would lay up to -10 with the Antelopes in that one.
From a futures standpoint, I expect one of the heavy favorites — UVU or SHSU — to be the ultimate victor. Given the price difference and overt dominance in their lone meeting (UVU won 80-64), the Wolverines are my preferred horse between the two.
Seattle at 30/1 would be my longshot. If Tyson catches fire, the Redhawks' defense could enable them to upset the WAC apple cart at the Orleans Arena.